Colonna sinistra

Colonna sinistra
S'Â'Eranile
The rooms
Facilities
Photo gallery
The area
How to reach us
Price list
Contact us
---
---
Contenuto principale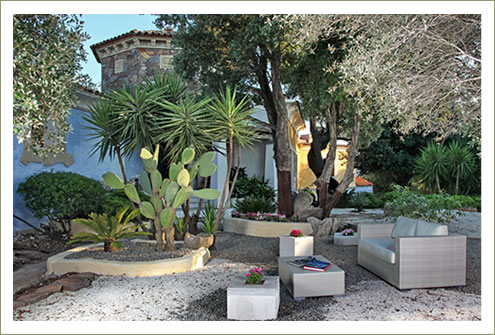 SÂ''ERANILE
SÂ''Eranile is a country residence within a few minutes by car from Dorgali and Cala Gonone.
Situated in a secluded green belt, it overlooks oak woods and white chalky mountains which outline the horizon and form beautiful frames to awe-inspiring sunsets.
From here one sets off on daily outings to the beaches with their crystal clear waters, tours to the caves, canyons and archaeological monuments in this extraordinary Sardinian location.
It is the ideal place to return to and relax in the gardens and enjoy the rooms which offer a high level of comfort.
Every piece of stone of the building as well as in the gardens has been worked by Piero Mele, a sculptor and artist inspired by the beauty of the island.
The delightful open spaces dedicated to the family and guests undergo constant improvement and allow for enjoyment of a special rapport with nature and oneÂ''s inner self.
---